Disc Finishing System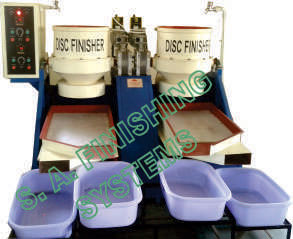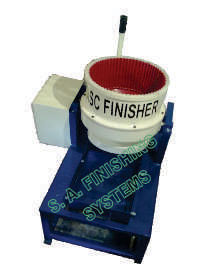 The High Energy Centrifugal Disc Finishing Machine delivers faster processing speed, Lower Noise, and Economical Operating Cost in Compact, Efficient Machine Design. Centrifugal Disc Finishing action improving Surface Finishing and Reducing Cost and Improving Overall Productivity.
This is 15 time faster than convention mass finishing system. Basically used for, imitation jewellery and cosmetic and light weight parts etc.
| Model | Actual Process Volumes | Total Motor (HP) | PU Lining Thickness (mm) |
| --- | --- | --- | --- |
| MP-25 | 25 | 1 | 15 |
| MP-35 | 35 | 1 | 20 |
Automatic System
| Model | Actual Process Volumes | Total Motor (HP) | PU Lining Thickness (mm) |
| --- | --- | --- | --- |
| MP-50 | 50 | 2.25 | 20 |
| MP-80 | 80 | 2.75 | 30 |
| MP-100 | 100 | 4.5 | 30 |